Welcome to @FoxWalletDaily
We are FoxWallet's official airdrop info aggregation, aiming to provide you with the latest and most valuable airdrop information!
You will find:
🚀Popular Airdrops   🚀Tutorials and Rewards
🚀Project Highlights   🚀Teaching Videos
Pay attention now and don't miss out on any exclusive airdrop opportunities and interesting airdrop content!
Here is our official social media accounts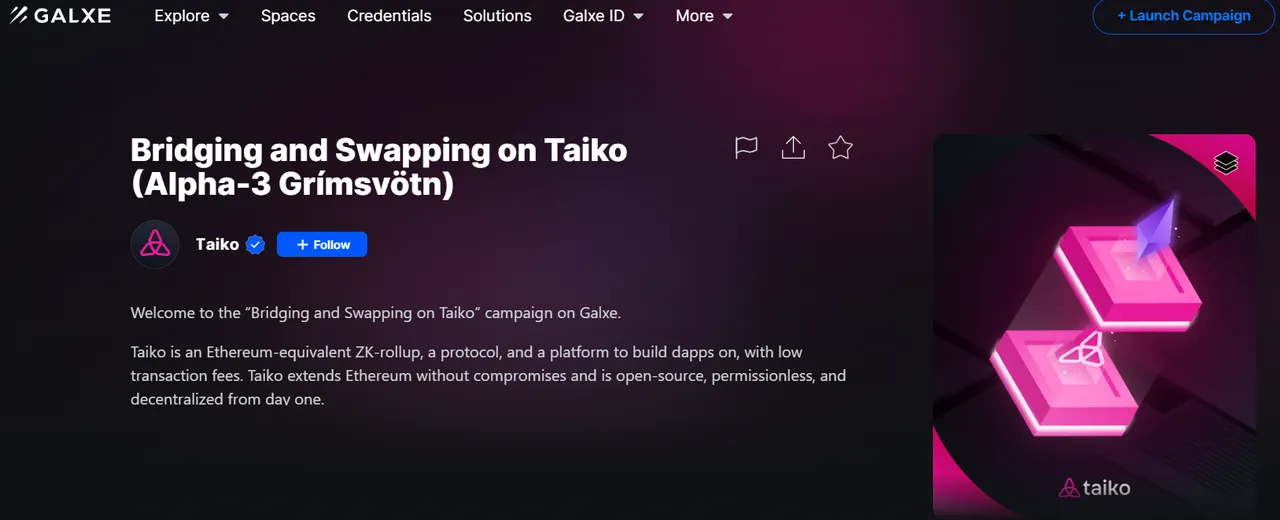 Connect Wallet​
1. Visit Guides​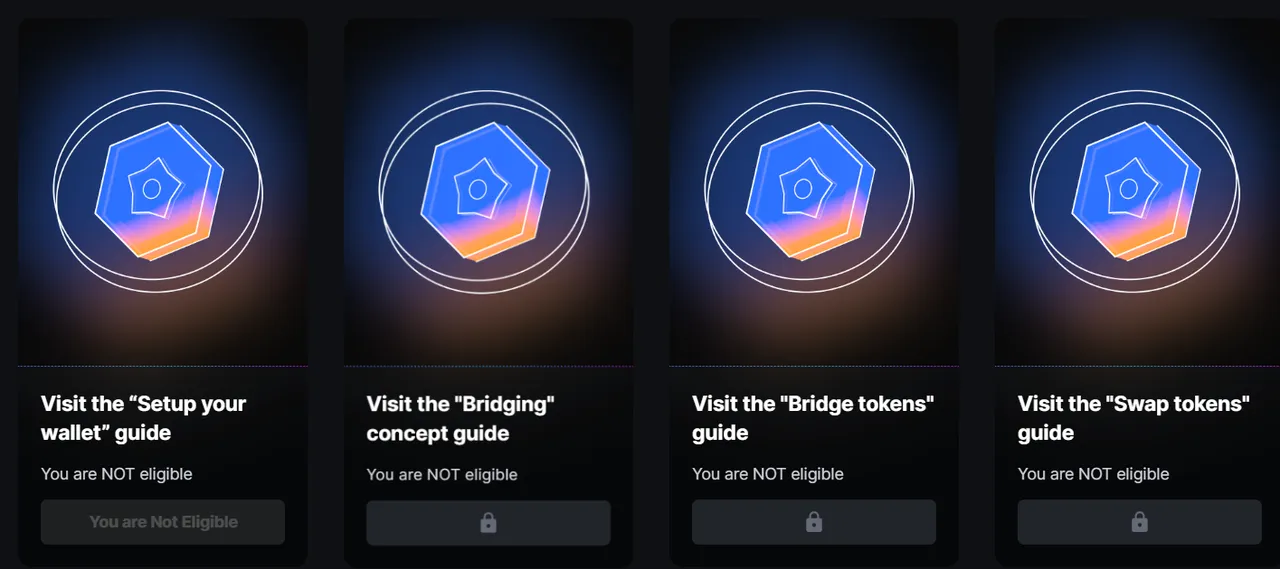 These four tasks are almost the same steps: Visit the "Setup yourwallet" guide,Visit the "Bridging" concept guide,Visit the "Bridge tokens" guide,Visit the "Swap tokens" guide.
1.1 view guides​
Go to the task page and click the task link.

Click Continue to Access after the Risk Warning appears (each task will appear)

After browsing all blog pages, back to the task detail page

The mission has not been unlocked yet, but there are already credentials that can be claimed next.
1.2 Continue the rest part of Visit the "Setup your wallet" guide​
Click taikoxyz - Twitter Followers

Click the Tweet button in the galxe task page

Click the Tweet button in the twitter page, this will bind your twitter account to your Galxe's account

Copy the verified tweet link

Paste it into the task list, and Verify

After the certification completed, follow Taiko official Twitter https://twitter.com/taikoxyz

Return to the task page, click the Authenticate button, and follow the task on Twitter.

Click Taiko Discord Human

Log in to your Discord account and authorize

Accept the invitation and complete a series of initial certifications

Click Verify and Continue

Complete the Question (everyone is different)

If you see other channels on the left, it means you have successfully entered Taiko discord.

Go back to the Galxe page and the Taiko Discord Human mission is completed

Click taikoxyz - Tweet Retweeters then click Retweet

Click Taikoxyz - Tweet Liker then click Like

Return to the main page, click Authentication button, it will turns green, then click Claim 1 Box
1.3 Collect all the OATs for the Visit task​
2. Quiz: Bridge and swap questions​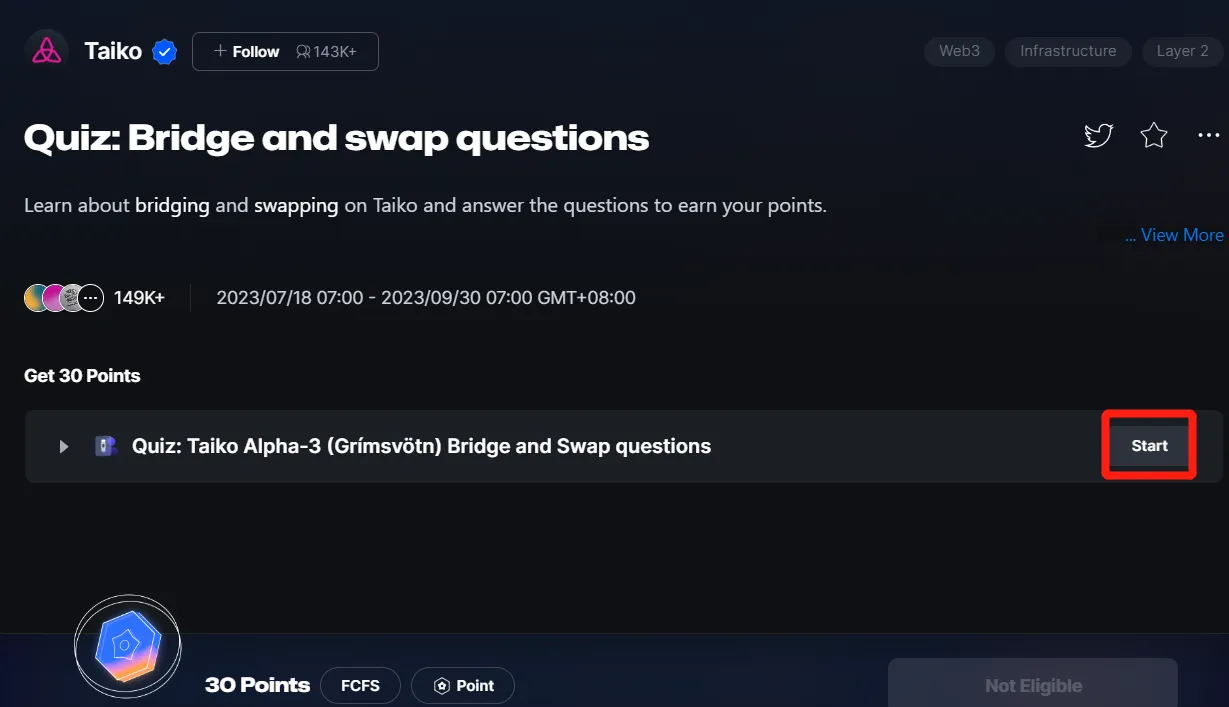 Question 1: What do Taiko users pay as their transaction fees?

Question 2: What is true about processing fees?

Answer: B.lf you choose "custom" processing fee you can set lower processing fee than the recommended processing fee

Question 3: Why can your transactions in BLL fail?

Answer: A. The BLL token is expected to fail about 50% of the time when bridging

Question 4: To send a token and bridge it to another chain, what needs to be deployed on the destination chain?

Answer: C. BridgedERC20 contract

Question 5: What does the bridge allow you to send?

Answer: D. Testnet ETH and ERC-20 tokens on Sepolia and Taiko

After answering the question, click Submit and Claim 30 Points
3. Bridge Sepolia ETH to Taiko​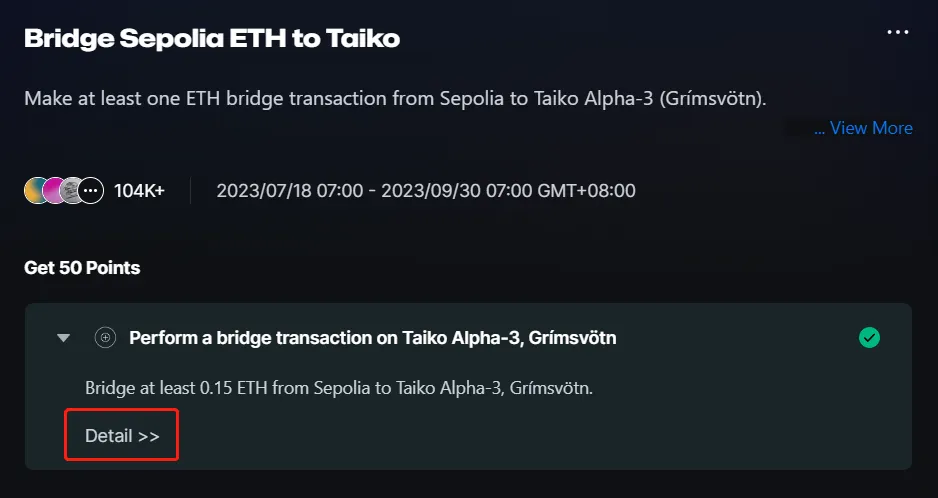 3.1 Add Sepolia and Taiko Alpha-3 Testnet to FoxWallet​
Open FoxWallet App
Go to "Me" -> "Networks" -> Search Sepolia Testnet and Taiko Alpha-3 Testnet -> select to enable them.
3.2 Receive Sepolia ETH test coins​
Switch Network to Sepolia Testnet
Open web page https://sepoliafaucet.com/
Pass the verification, and paste the payment address in FoxWallet
If you can't get it, there are some other faucets here:
We have also compiled a collection of faucet websites of major networks, which has been published in our official Help Centre. This doc will be continuously updated. link:https://hc.foxwallet.com/zh/docs/tools
3.3 Bridge Tokens​
Open website https://bridge.test.taiko.xyz

Click the "Connect Wallet" button in the upper right corner of the page

Select "WalletConnect" as the wallet connection option

Open FoxWallet and click the scan code icon in the upper-right corner.

Scan the QR code on the webpage

Connect wallet

Enter the amount of Sepolia ETH you want to cross-chain (must over 0.15ETH)

Click the "Bridge" button to cross-chain

Confirm the transaction on FoxWallet
3.4 Return to Galxe page, Claim 50 points​
4. Make a swap on Taiko​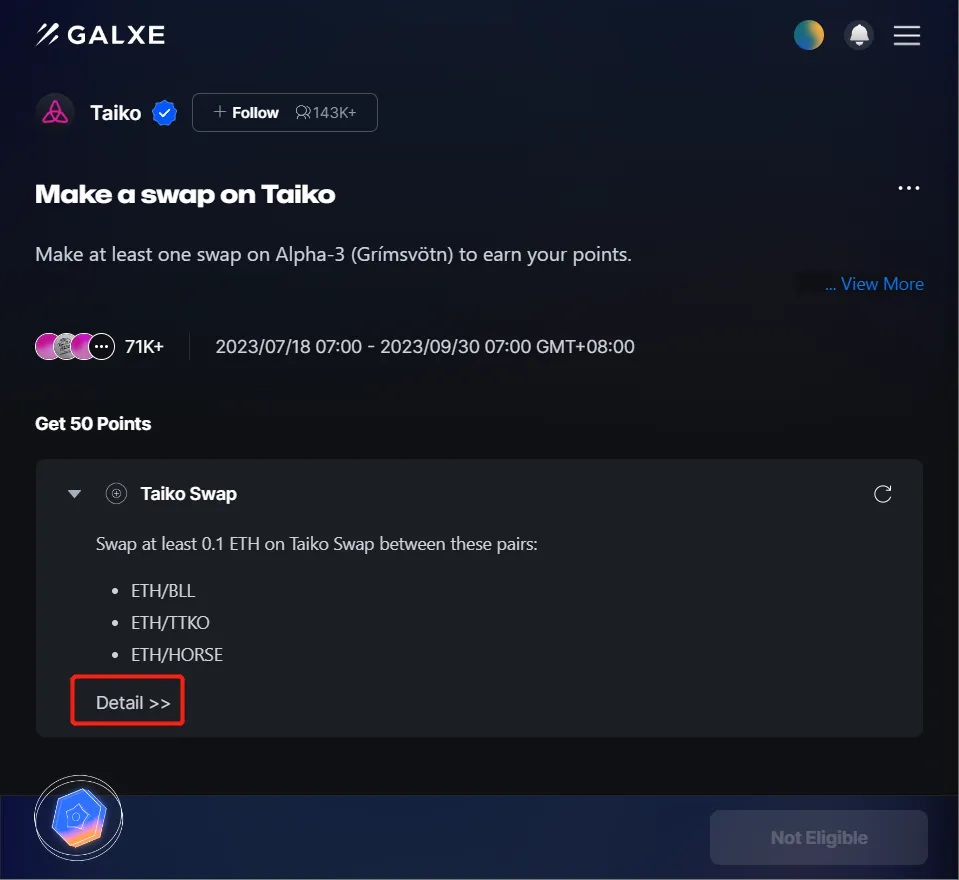 Add test tokens to FoxWallet wallet

BLL: 0x6302744962a0578E814c675B40909e64D9966B0d
HORSE: 0xa4505BB7AA37c2B68CfBC92105D10100220748EB
TTKO: 0x7b1a3117B2b9BE3a3C31e5a097c7F890199666aC

Collect HORSE and BLL tokens (TTKO cannot be collected)

Switching to Sepolia Network
Select tokens to mint, ensure that you have Sepolia ETH in your wallet as gas. (Each account can receive 50 BLL and Horse respectively)

To bridge BLL and HORSE, you need "Approve" first

Open https://swap.test.taiko.xyz/#/swap in FoxWalet's Discovery Page.

Click ETH/HORSE (ETH/BLL)trading pair and swap at least 0.1 ETH

Click Swap - Confirm Swap to complete the transaction

Return to the Galxe page and click the refresh button to receive Points.
At this point, the Taiko (Alpha-3 Grímsvötn) task has been completed. And our FoxWallet has released two tutorials for Taiko:
Welcome to follow us​
Best wishes
By Cecilia
On 2023.7.28