Welcome to @FoxWalletDaily
We are FoxWallet's official airdrop info aggregation, aiming to provide you with the latest and most valuable airdrop information!
You will find:
🚀Popular Airdrops   🚀Tutorials and Rewards
🚀Project Highlights   🚀Teaching Videos
Pay attention now and don't miss out on any exclusive airdrop opportunities and interesting airdrop content!
This issue is about zklink Summer Tour:ZK Week & Optimistic Week​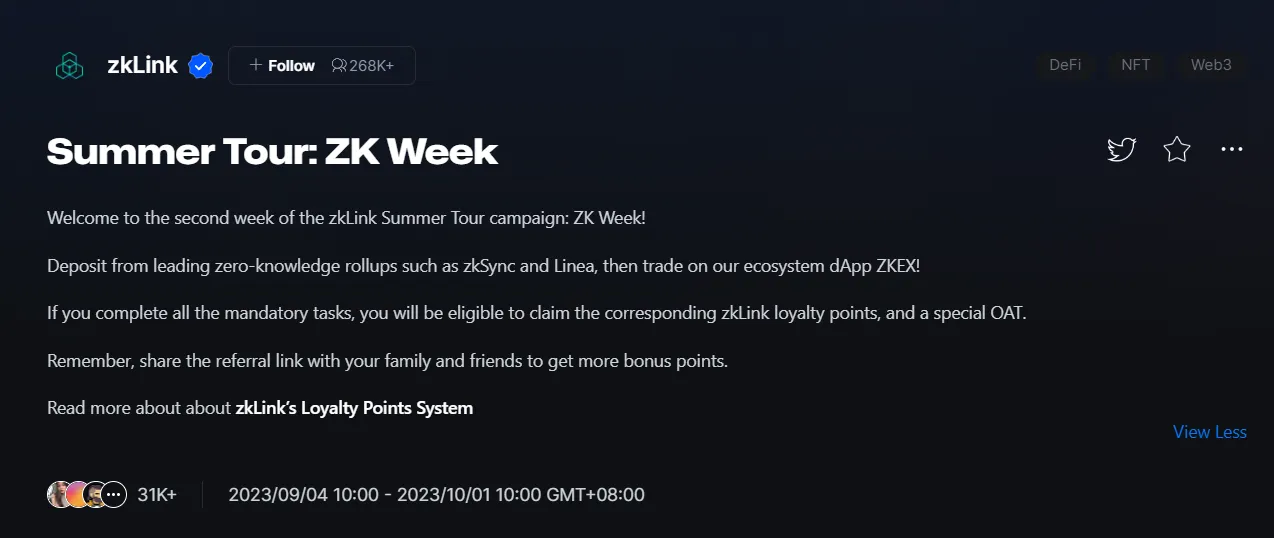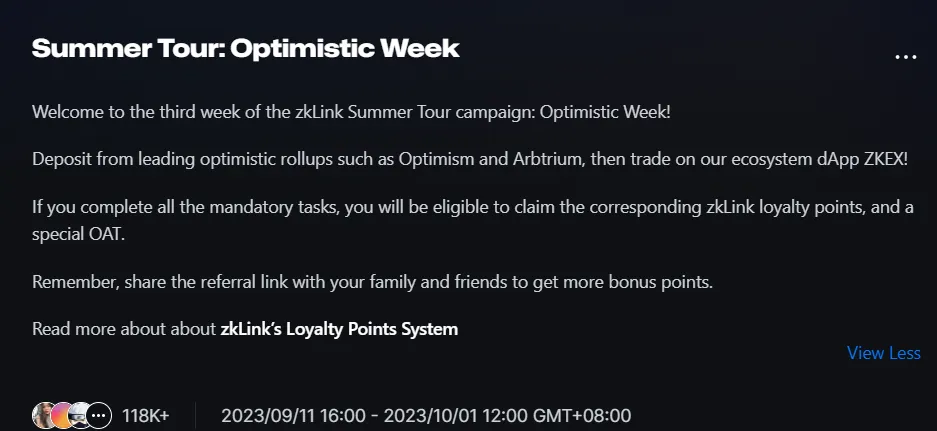 The two tasks are very similar, and the deadline is 2023.10.1​
Time:2023/09/04 10:00 - 2023/10/01 10:00 GMT+08:00
2023/09/11 16:00 - 2023/10/01 12:00 GMT+08:00
Connect FoxWallet​
Twitter Task​

1. Twitter Followers​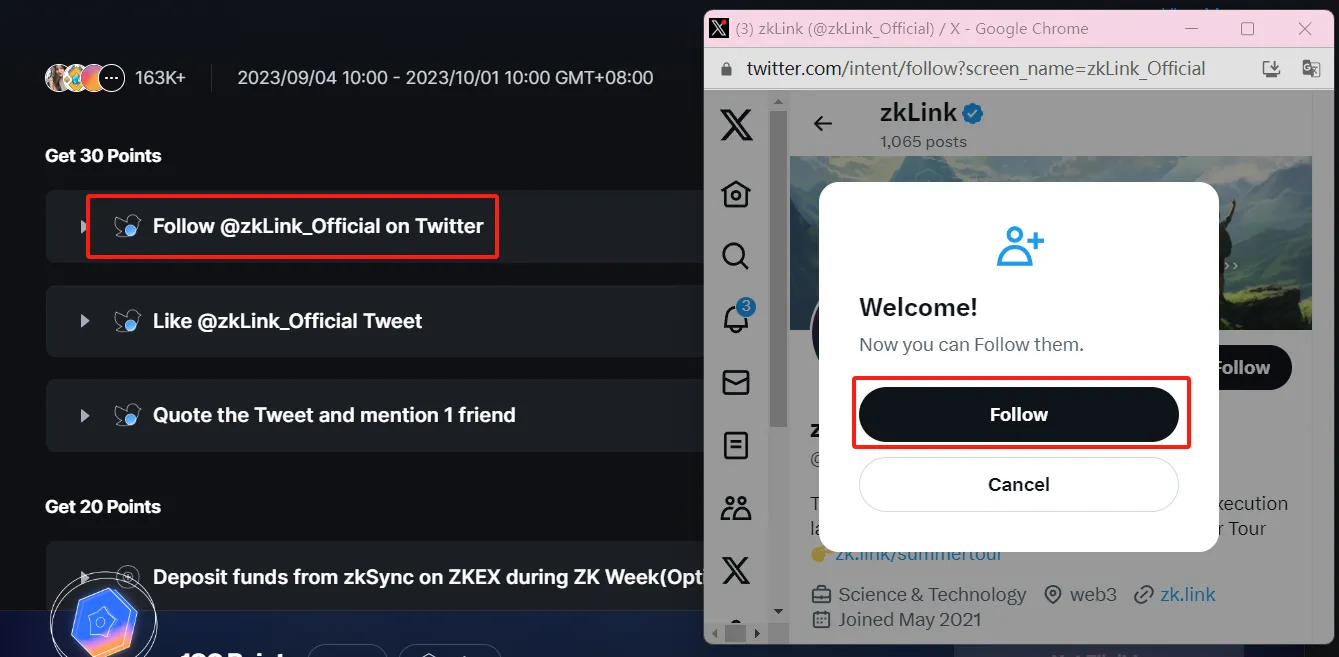 Click Follow @zkLink Official on Twitter link
Click Follow
Go back to the Galxe page and verify
2. Zk Week Tweet Liker & Tweet Quoters​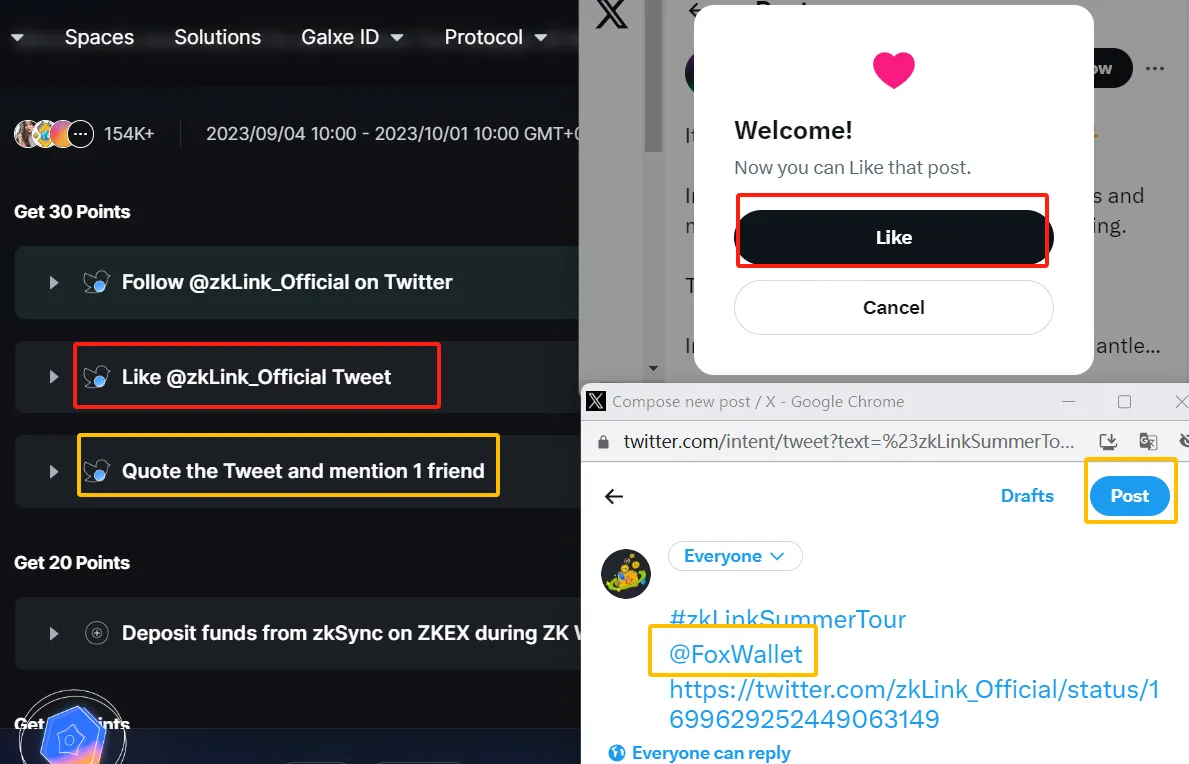 Click zkLink Official - Tweet Liker, and click Like
Click Quote the Tweet and mention 1 friend and Mention 1 Friend,Then click Post (you can mention FoxWallet)
3. Optimistc Week Tweet Liker & Tweet Retweet​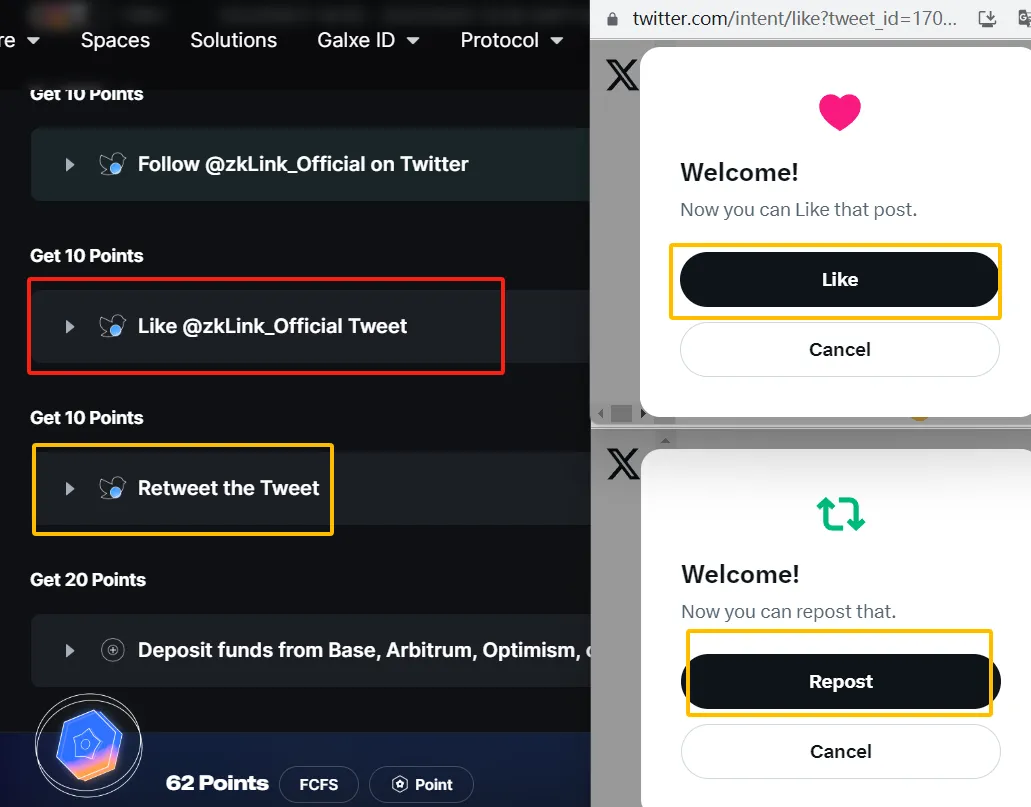 Click Like @zkLink_Official Tweet , and click Like
Click Retweet the Tweet,Then click Repost
Deposit Task​

Take zkSync as an example​
Open the event page on FoxWallet: https://galxe.com/zkLink/campaign/GCn45UjHXE (Make sure it is on the zkSync network)
Click the "Connect Wallet" button in the upper right corner of the page
Select "Metamask" as the connection option(FoxWallet and metamask are compatible)
Click Balance,Make sure it is on the zkSync network to deposit
Click Deposit
Click Transfer crypto from personal wallet
Click zkSync Era network
Selet ETH(ETH value over than 20usd) and Click Deposit
Wait a moment
Similarly, other Linea, Ethereum, Base, Arbitrum, Optimism and Mantle are the same operation steps as above
Visit Task​


Click links

Visit zkMe and learn more about melD (Optional)
Visit SpaceFi and learn more about adding liquidity on zkSync (Optional)
Visit the iZiSwap to learn more about on-chain swaps (Optional)
Visit the Radiant to learn about cross-chain borrow and lending (Optional)

Risk Warning appears then click Continue to Access
Visit page
Go back to the Galxe page and verify
Trade Task​

Trade tasks both complete transactions of no less than 10u and 20u respectively within the task time.
Open ZKEX in the FoxWallet mobile App
On Trade page select Matket
Click Activate My Account
Click Activate
Click Start Trading
Enter 21Usd of ETH in the Sell option
Click Sell, when the Success icon appears, click Balance
Check whether an equivalent amount of USD has been received
Referral task,each gain 1&2Points​


Some tasks will take a while to authenticate, so wait a moment to Claim all the Points
Here Summer Tour: ZK Week & Optimistic Week tutorial is over, there will be more zklink related galaxy mission tutorial released in the future, everyone remember to follow up to check.​
Welcome to follow us​
Best wishes By Cecilia On 2023.9.21